Welcome to the big
SITS Blogathon
! If you are not already a SITSta, then you must go find out what all the hoopla is about.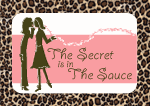 I have not been a SITSta for very long - only a month or so really - but I am so happy that I have found this wonderful blog that celebrates and encourages women bloggers. The whole idea behind
The Secret Is in The Sauce
, the brainchild of bloggers
Heather
and
Tiffany
, is bringing a sort of sisterhood to the community of women bloggers. The point of the site is to encourage women bloggers to support their fellow women bloggers by reading and commenting on their blogs.
I have met some wonderful new bloggy friends through SITS that I may not have found any other way. Some of these ladies I identify with completely, while others I simply admire and strive to be more like. Some of them just give me a good chuckle every day! And some fall under all three categories! And they, in return, have given me some wonderful comments on my blog posts here.
So, today for the SITS Blogathon, I share with you some of my favorite new SITS friends. Please visit them and show them so comment love.
In no particular order, I give you:
Pennies in My Pocket
: Melody (great name, even if the spelling is a little wonky ;) ) is a wonderful bargain shopper and loves to share all of her internet bargain finds. She also whips up a mean meal, complete with recipes, on Slow Cookin' Thursdays.
Life as a Mom at 22
: Kaycee is a young mom like I used to be, but with WAY more ambition. She's got a beautiful two year old little girl, with another one on the way (I believe she's actually due today!), AND a thriving business. If you've got little girls with hair, you simply MUST check out her website,
Prissy Miss Boutique
.
What a Card
: This lady cracks me up! She got her hands full with twin boys - enough said.
The Journey
: Tracy has a beautiful blog - literally. Not only is it very visually stimulating, but her posts are also spiritually stimulating.
And now for some of my favorite blogs that I did not find through SITS, but are also fellow SITStas:
The Life and Times of a Bad Mommy
: Teri has my kind of sense of humor - very dry and sarcastic! I totally relate to her. She has three little girls, and one angel baby, and I love reading about their adventures and crazy mishaps. And did I mention her family recently moved to Germany? Yeah, fun times!
AFRO
: What can I say about AFRO? She's like me, only younger, prettier, has a job and boys instead of girls. She's been dealing with a lot of tough stuff lately, but she can still usually find something funny to say. She's also been very helpful with Sarah's ACS Relay for Life fundraising effort.
Ashley.Unscripted
: I can't tell you a whole lot about Ashley since we aren't allowed to speak of her old blog, or her job, but if any of you are missing a certain pharmacist's blog, you may want to check her out.
Okay, now go - check them out and leave them some wonderful comments. You can tell them I sent you. Oh, and since this Blogathon involves PRIZES, please send some winning vibes my way. Thanks.